Share
Honest Grapes presents
October 10, 2023
6:30 pm - 8:30 pm
Regular price
Offer price
£130.00
Unit price
per
Honest Grapes and 67 Pall Mall proudly present a masterclass with Castello Di Ama to explore the award-wining wines and installations by world-famous artists that define the estate. The journey will cover a selection of commissioned art works and signature wines from relevant vintages. Book early to avoid disappointment. 
£130 ticket price each
£90 ticket price for Club Pontet Labrie members - please contact us

 

to receive your discount code
Lorenza Sebasti and Marco Pallanti of Castello di Ama have been making wines in Tuscany since the 1970's situated around the hamlet of Alma, which perches at 450-550 metres above sea level. Regarded for their elegance and freshness, allied to their natural intensity and depth, Castello di Alma has, as Antonio Galloni states, "crafted some of the most riveting wines in Tuscany... simply put, there are few estates in Italy at this level."Decades ahead of their time, they installed temperature-controlled vats, and practiced plot-by-plot vinification, long before it became common practice amongst top growers.
The core Chianti Classico is comprised only of traditional grapes, though the remainder of the range incorporates Bordeaux varieties to some extent, with their famed l'Apparita being the first 100% Merlot wine made in Tuscany. After regularly achieving ratings in to the high-90s across their top cuvées, the 2019 vintage saw Vigneto la Bellavista awarded Chianti's first ever 100 point score from Antonio Galloni – the culmination of decades of hard work.
Pioneers not in just wine but art too, Ama also offers 'a cultural "reading" of our unique corner of earth, along with the significant presence of contemporary art, represented by art installations in situ made by amazing artists, including Anish Kapoor, Louise Bourgeois, Michaelangelo Pistoletto, Ilya and Emilia Kabakov, and Hiroshi Sugimoto .'Our co-host, South African artist Kendell Geers, was responsible "Revolution/Love", one of the earliest and most immediately arresting of Ama's installations. 
"Let's talk about something more profound, something more spiritual and I have always been fascinated by the word love within the word revolution written backward and I don't believe that it's a coincidence because I think that every revolution is made with love, it has to be with love otherwise it doesn't succeed. We live inside revolution."
At the masterclass we will enjoy the following wines:
Aperitivo: Purple Rose, Rosé 2022
Montebuoni, Chianti Classico Riserva 2020
Haiku, Igt Toscana 2018
Castello Di Ama San Lorenzo, Chianti Classico Gran Selezione 2015
Castello Di Ama San Lorenzo, Chianti Classico Gran Selezione 2011
L'Apparita, Igt Toscana 2010
Vigneto La Casuccia, Chianti Classico Gran Selezione 2007
Vigneto Bellavista, Chianti Classico Gran Selezione 2006
Vigneto La Casuccia, Chianti Classico Gran Selezione 2004
Please email the events team for any questions.
View full details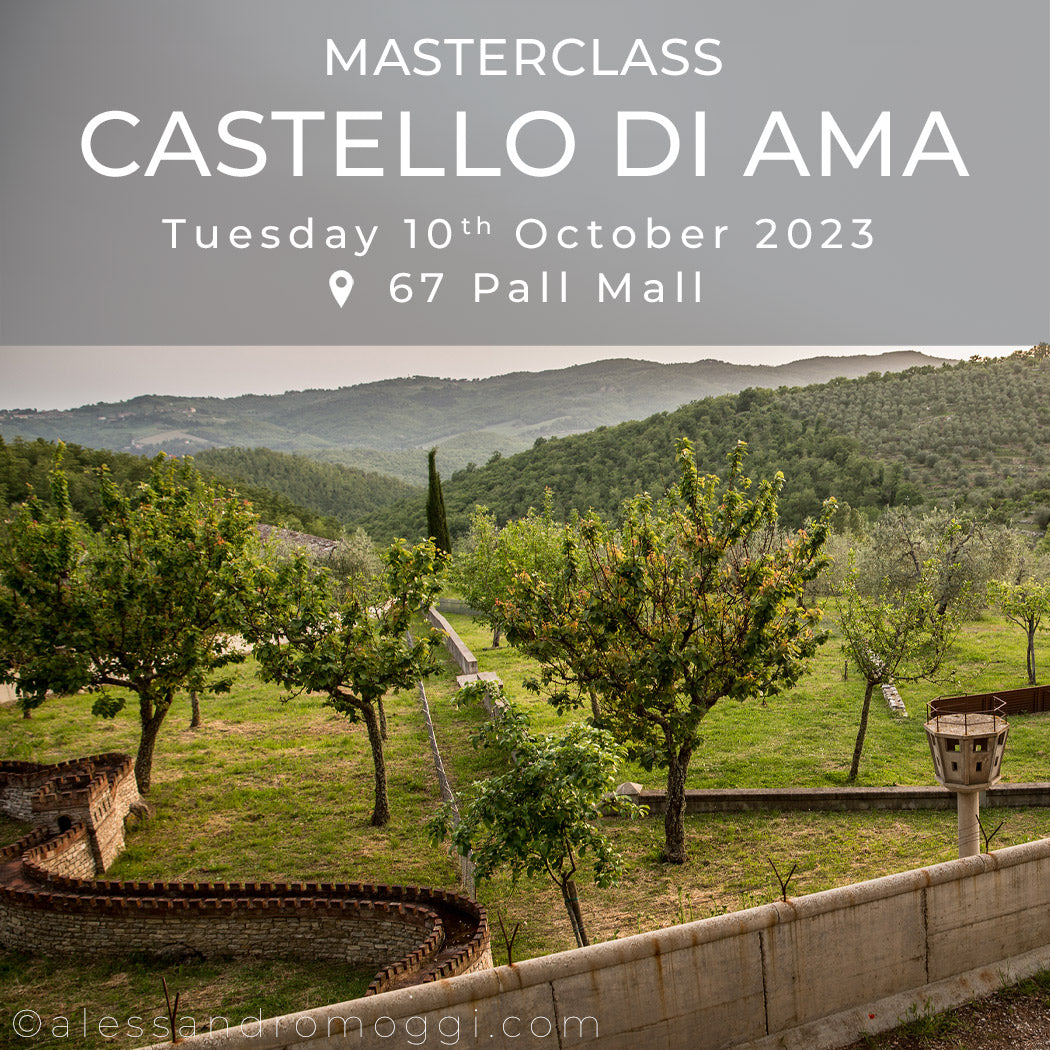 Club events
Wine tasting is a great way of bringing together family, friends and colleagues, and our events have received fantastic press as industry leaders (including FT How to Spend It, Guardian, Cosmopolitan, Metro, Condé Nast Traveller, The Telegraph). From incredible trips to Burgundy & Tuscany hosted by Head Wine Guru Tom to relaxed, fun events in London with the team, our roster of tastings caters for all, from the wine novice to the oenological veteran.