Share
Honest Grapes presents
November 10, 2023
1:30 pm - 11:59 pm
Mark your calendars for this year's trip to Burgundy on Friday 10th – Sunday 12th November in anticipation for The Hospices de Beaune auction.
Taking part in the Hospices de Beaune Hospices de Nuits Saint-Georges, or owning bottles, is a dream of many a collector. Whilst the opportunity to have a slice of Burgundian history is thrilling enough, we are offering two trips to Burgundy in celebration these annual auctions.
Previous Syndicate Members rank this at the very top of their most exciting fine wine experiences with tastings and experiences organised especially for those with shares, such as our upcoming trips out to Burgundy, and most exciting of all is the superb wine you receive at the end of the journey.
The trip will delight with an itinerary jam packed with local vineyard visits and will include gastronomy in some of our favourite spots across Burgundy with winemakers in attendance. Last years activities have been included to give you an idea below. Most of the itinerary has been confirmed; a few additional minor details will be shared shortly.
Example Itinerary
DAY 1
Our first visit to Domaine De Montille for a tasting with head winemaker Brian Sieve. The domaine has been entrusted with the élévage of our 2019, 2020 2022 Hospice de Beaune barrels, our longest standing partner.
Head down the road for a tasting of RVF Negociant of the Year Jane Eyre's wines over lunch at the much-loved Hungry Cyclist Lodge in Auxey Duresses. Joined by the winemaker we will have lunch prepared by the eponymous "Hungry Cyclist" Tom Kevill-Davies. Jane Eyre will carry out the élévage of our 2021 Hospices de Beaune barrels (including our first Grand Cru!).
We will then return to Beaune for a visit to L'Hotel Dieu, the site of the Hospices itself before allowing you some free time to explore the town. This is a good time to pick up your bottles for the Paulée Dinner. Dinner will be at exclusive member's club 1243 Bourgogne Society 6 Rue de l'Hôtel Dieu, 21200 Beaune. We will be hosted by the Hervet family (founders of the club) and Burgundy Wine Board President Laurent Delaunay.
DAY 2
Please be ready to be collected by the the drivers to head off to The Hospices de Nuits for a guided tasting through the wines of Domaine du Hospice de Nuits Saint-Georges with head winemaker, Jean-Marc Moron.
Lunch at a restaurant in Nuits Saint Georges We will then head to Chateau de Charmont, over in the Haute Cote de Nuits the home of Maison Edouard Delaunay, founded in 1893 for a tasting with Laurent, representing 6th generation of the family business, and his winemaker Christophe Briotet (IWC Winemaker of the Year – three years consecutively). The maison has been responsible for the élévage of our 2020 and 2021 Hospices de Nuits barrels.
Dinner at a luxury restaurant for our Paulée Dinner [BYOB].
View full details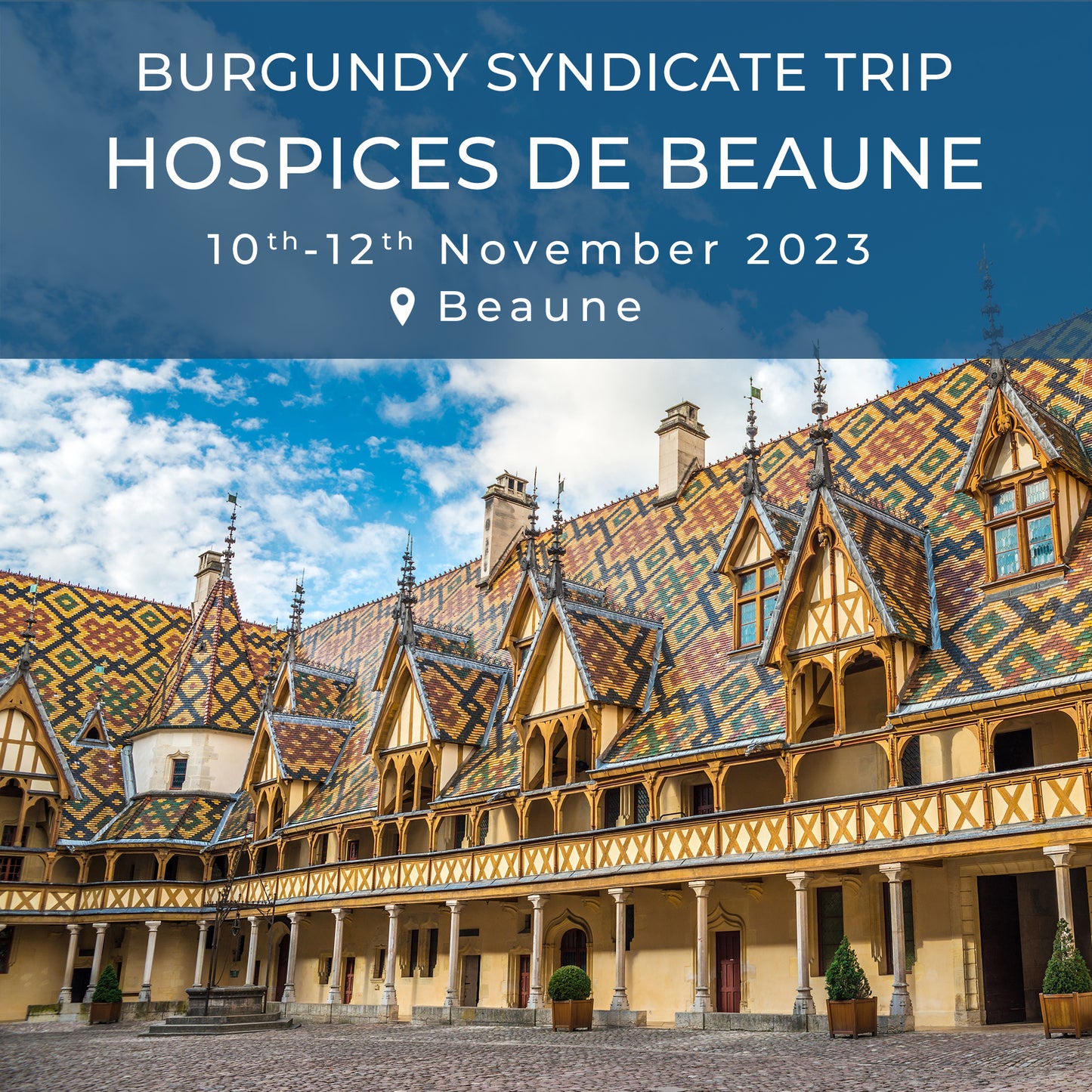 Club events
Wine tasting is a great way of bringing together family, friends and colleagues, and our events have received fantastic press as industry leaders (including FT How to Spend It, Guardian, Cosmopolitan, Metro, Condé Nast Traveller, The Telegraph). From incredible trips to Burgundy & Tuscany hosted by Head Wine Guru Tom to relaxed, fun events in London with the team, our roster of tastings caters for all, from the wine novice to the oenological veteran.